QuickMark for Android

App: QuickMark QR Code Reader
Current Version: v4.3.5, v5.0.1
Supported OS: v4.3.5: Android OS 1.6+, v5.0.1: Android OS 2.3+
Supported UI Languages: English, 中文 (Traditional, Simplified), 日本語, Russian, Hungarian
Supported Barcodes: QR Code, Data Matrix, Quick Code, EAN 8/13, Code39, Code128, Interleaved 2-of-5
Download: Google Play v4.3.5 APK v5.0.1 APK
Recent Update History
Download and Install
How To
Downloading QuickMark to your mobile phone is easy and the same as downloading any other Android app.
Step 1: Find the Android Market icon and tap to open
Step 2: Use the Search function and use QuickMark as keyword
Step 3: Verify that you have found the correct application
Step 4: Click install to start the download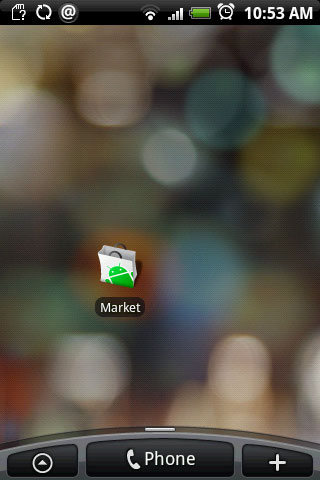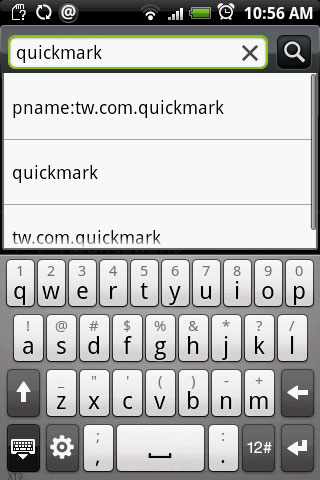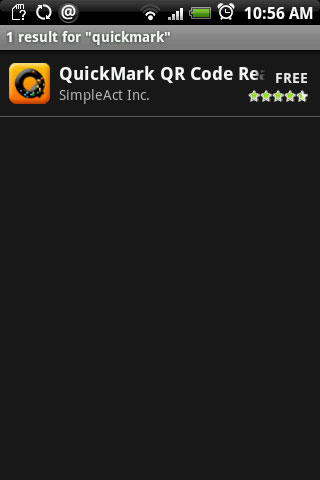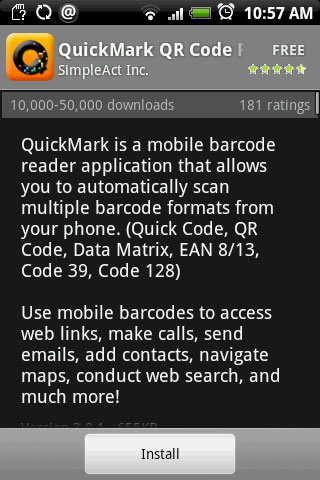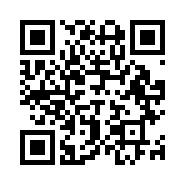 Scan the barcode above with your Android phone to download QuickMark from Google Play.
Frequently Asked Questions
Why does the app require permissions for...
Contacts
We have 2 good reasons for this. 1) When you scan someone's business card QR Code, you want to save it to your phone right away, and our app can do that. With your permission, of course. And 2) when someone else asks you for a contact's information, you can generate a QR Code and display it right on your phone. Your friend can then scan it with their barcode reader to quickly retrieve that data.
Bookmark History
Just like sharing a contact, you can also share links of interesting websites that you have visited. Again, by generating a QR Code on your mobile screen and have your friend scan it.
Write to External Storage
Some users have wanted to share the QR Codes generated from our app with others, which is why we need a place to store the image.
Features (Screenshots from v4.x)
Main
The QuickMark app these main groups of functions: Scan, History, and Share. Scan and History are quite self explanatory. Share is for generating barcodes from a variety of sources such as Contacts or installed apps and displaying the generated barcode on the screen. The generated barcode can also be exported to 3rd party applications such as email or SMS programs.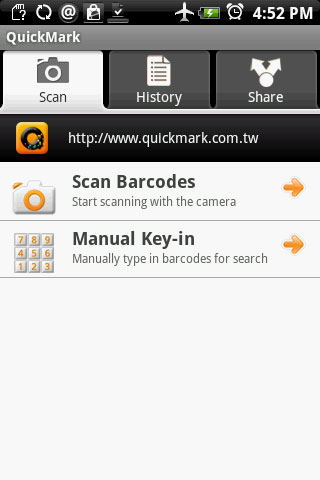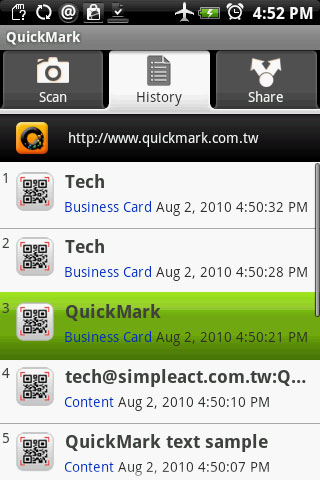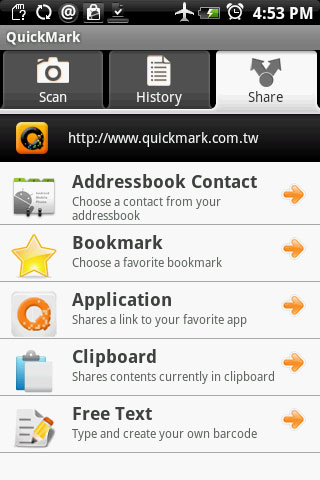 Scanning
The scanning viewfinder can be toggled to show an appropriate visual aid for the type of barcode you are scanning. For 1D barcodes that are hard to scan, you may choose to enter the barcode manually with the virtual keypad. Swipe across (left/right) the virtual keypad to switch from numbers to alphabet characters.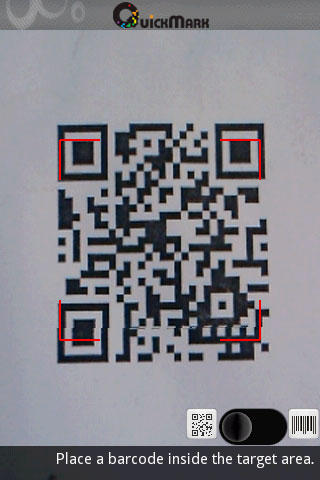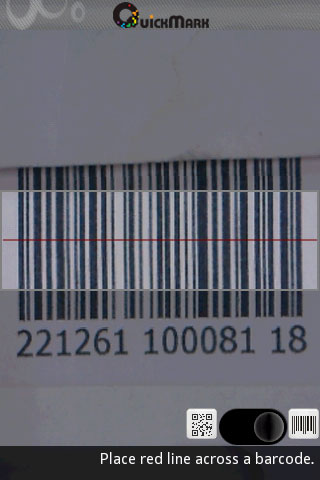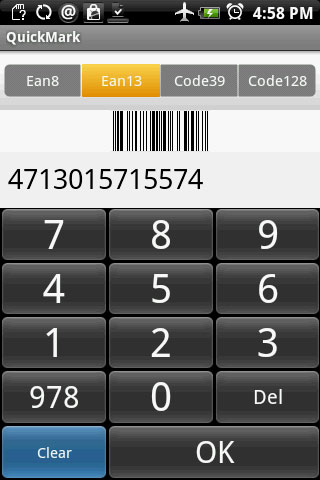 Functions
Once a barcode is successfully recognized, you will be presented with a list of functions you can perform with the scanned data. Such as making a call, opening a website, locate POI to a map, etc. These functions can be triggered by pressing the image button next to a data field. The raw data is also displayed as well as an advanced menu on the bottom to perform tasks such as web search, share, copy & paste, and much more.